Alison Law is a professional writer, publicist and marketing and social media consultant based in Atlanta, Georgia.
Present
As present, Alison serves as marketing and sales manager for national cause marketing agency For Momentum, where she works with senior leadership to develop and execute the agency's marketing and business plans. She manages the agency's content marketing strategy, all content marketing assets (blogs, case studies, websites, email marketing and e-newsletters, landing pages, social media profiles, ad copy, press releases, key messages and talking points, video scripts, etc.) and cause marketing tools.
As owner of Alison Law Communications, Alison has worked with a variety of clients, including authors and book publicity firms, public relations and advertising agencies, attorneys, accountants, veterinarians and other professional service providers. She has represented the sole practitioner and entrepreneur to the Fortune 500 company and government agency.
Other Career Highlights
2015
Alison earned a master's degree in English with a concentration in literary studies from Georgia State University.
2013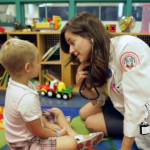 Alison Law Communications and client Tennessee Valley Authority (TVA) won a Silver Telly national advertising award for their "Make It Count" video. The purpose of the "Make It Count" video was to rally fundraising efforts and showcase the many worthy nonprofit organizations supported through the generous donations of the Combined Federal Campaign (CFC). TVA commissioned a poem from Alison, who also provided her voiceover talents in the video.
From February – June 2013, Alison served as assistant program director for the AJC Decatur Book Festival. In this contract position, she was responsible for booking authors and managing relationships with authors, publishers, publicists, volunteers and other key stakeholders involved in the production of the nation's largest independent book festival.
2012
In 2012, Alison combined her editorial, online marketing and social media skills to launch SouthernSpines.com. Southern Spines was an online community that celebrated and promoted southern writers, songwriters and poets, and what the site described as "Books with Backbone."
Through Southern Spines, Alison met authors Marybeth Whalen and Ariel Lawhon and became a member of the She Reads Blog Network. Believing that "Story is the shortest distance to the human heart," She Reads and its network of 70 book bloggers introduce novels and authors to thousands of voracious readers.
2006
Alison founded Alison Law Communications LLC.
2000
Since 2000, Alison has served as in-house and outside marketing counsel to some of the nation's largest law firms. Her work has garnered industry awards, and Alison has served in various leadership positions in the Southeastern Chapter of the Legal Marketing Association (LMA).
1993-2000
Alison's career began 22 years ago in a newsroom in her hometown of Chattanooga, Tennessee. While studying communications at the University of Tennessee at Chattanooga, Alison worked for the local NBC affiliate. She spent almost seven years in various editorial and management positions at television stations in Chattanooga, Lexington, Kentucky and Baltimore, Maryland.
To view Alison's professional profile on LinkedIn, visit linkedin.com/in/alisonlaw.